Beneath Our Feet: Recent Finds Unearthed in Lincolnshire
RSS Feed
Recently unearthed archaeological finds from across the county featured in a small display in The Collection's Orientation Hall from May to August 2021, showcasing objects acquired by the museum for its collections, alongside items found and recorded through the Portable Antiquities Scheme.
The Collection's recent acquisitions, by donation and purchase, include Bronze Age gold, a finger from a Roman statue, an Anglo Saxon decorative mount and a Viking silver ingot. Alongside the museum's collections, artefacts recorded with the Portable Antiquities Scheme, through the county's Finds Liaison Officer and a team of volunteers, were also displayed, selected to highlight the amazing array of objects discovered in the county each year.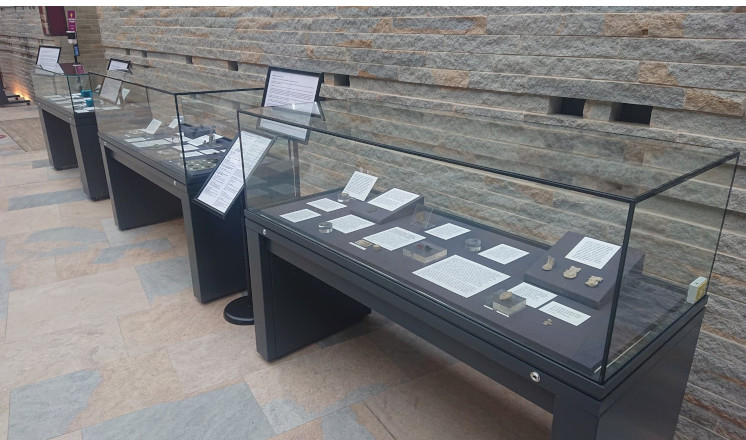 Artefacts in the Museum Collections
Every year The Collection Museum enhances its collection of archaeological artefacts with a number of new acquisitions, by purchase, bequest, or through the generosity of the original owners donating them to the museum.
Many of these artefacts have been recently unearthed across the county, found by metal detectorists, gardeners or walkers. The artefacts acquired all help us to tell the rich story of Lincolnshire from prehistory to the early 18th century. Each artefact gives us a greater insight into the history of a place, the lives of those living before us, or adds to what we know about a particular object type. Some of the objects stand out as beautiful in their own right; others are less aesthetically pleasing but they are still an important part of the archaeological record of the county.
Kindly donated to the museum by the finder was a remarkable fragment, a cast copper alloy finger from a slightly larger-than-life-sized Roman statue (LCNCC : 2019.125 / PAS LIN-C6AFB3). This hollow-cast finger is extended in such a way as to suggest it was making a gesture; and it has a well-defined finger nail. The perimeter of the break is irregular and suggests that it has been torn or broken off the statue rather than having been dismantled using a chisel. The finger itself was cast separately from the hand; and it is thought the thumb slotted into the hand and was then hammered clean on the surface to conceal the join. The style of casting is consistent with a date in the late first or early second century AD. The find comes from an area of known Roman archaeological interest to the north-west of the colonia in Lincoln. The significance of the find spot is unclear at present, however, especially with regard to whether the statue was originally placed in the vicinity, or whether the item was transported there for recycling in antiquity, or perhaps even in more recent times via other processes.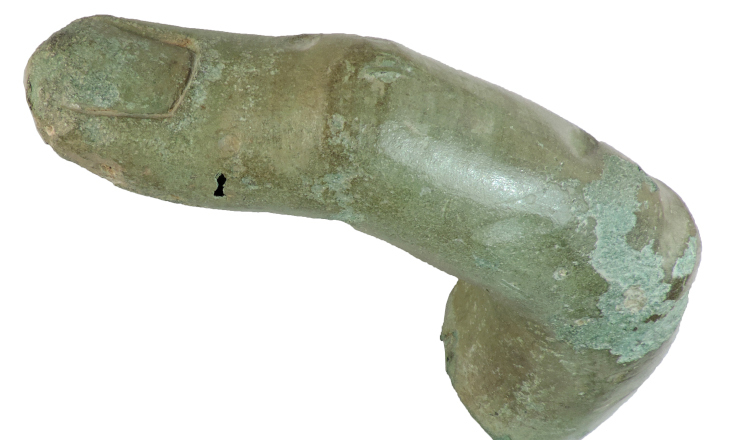 Another kind donation was a silver ingot from the early medieval period (c. AD 750-1050), also known as Viking hack silver, which was discovered at Brampton, Lincolnshire. Although such ingots are traditionally difficult to date out of context they are often attributed to a Viking date. This particular ingot was found in an area of known mid-late Anglo-Saxon and Viking era activity with several other ingots and other Viking age material (LCNCC : 2019.145 / PAS DENO-705A57).
Sometimes objects are found that we're not exactly sure what they were originally used for, and one such object is an early medieval, 8th to 9th century, silver mount found at Leasingham by a metal detectorist. The mount is decorated in relief with a chip-carved interlaced dragon and tail, and demonstrates some of the best chip-carved artwork found in the county. The grooves held a niello inlay (a black enamel-like inlay), which has mostly disappeared. It may have been what are called 'pepper pots' or scabbard mounts like the ones from the St Ninian's Island Treasure or more likely they may have been bosses from a cross or shrine. This item was purchased by the museum, with the assistance of the ACE/V&A Purchase Grant Fund and The Headley Trust (LCNCC : 2019.164 / PAS LANCUM-A21744).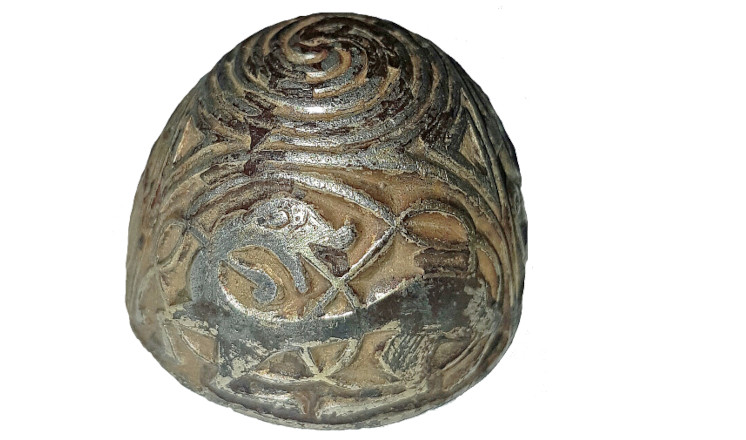 Finds recorded through the Portable Antiquities Scheme
The Portable Antiquities Scheme (PAS) is an initiative that encourages the recording of archaeological artefacts. Every year, hundreds of objects are found by gardeners, walkers and metal detectorists, which have greatly contributed to our understanding of the history and archaeology of England and Wales.
The Portable Antiquities Scheme's online public database is a significant resource for students, researchers, schools, universities and members of the public and has recently hit an enormous milestone of 1.5 million records. Finds reports by the public have helped us to re-think the past, re-writing distribution maps and discovering new object types and archaeological sites, including early medieval cemeteries and Roman coin hoards. Even during the national lockdown people were still finding fascinating things in their gardens or during their daily exercise.
A group of metal detectorists, gardeners and walkers kindly gave The Collection permission to display some of their recent discoveries, all of which have been recorded on the PAS database. Further details can be accessed online here. Some of the finders, who also volunteer with the PAS, have shared the moment of discovery of some of their finds.
One volunteer and metal detectorist shared a tale of finding an Iron Age brooch in the Sotby area (PUBLIC-4D5F36).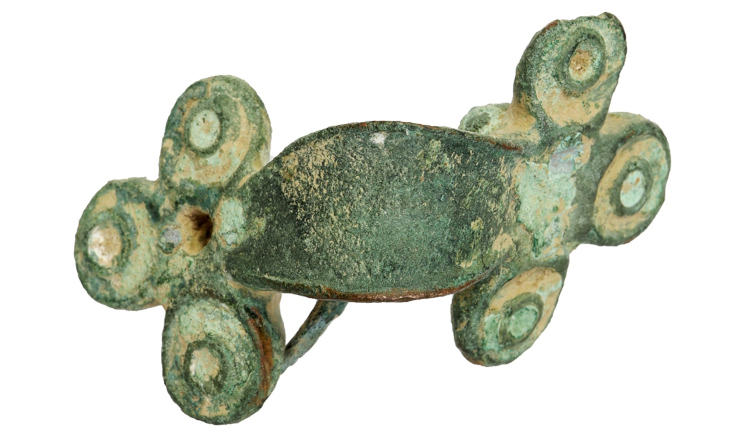 "Having been fairly dismissive of metal detecting most of my life I was finally introduced to it by a close friend and was hooked on it from day one when I found a Henry VIII silver groat on my first time out. Since then it has developed my interest in history as well as providing a good reason to get outdoors.
In September 2019 I was detecting in the Sotby area in a field where the same friend had found a Roman coin the week before. I had been in the field for about two hours trying to be methodical with my search pattern when I got a good strong signal. I dug down about six inches and uncovered a heavily patinated metal object. On washing the mud off I could see it was a brooch but had no idea from which era.
On returning home I emailed the Finds Liaison Officer and was invited in for her to look at it. She was very interested in it and kept it to carry out further research. It was later that week when I was contacted and told it was an Iron Age brooch dating back to the period between 800 - 500 BC and had been registered as a find of regional significance. I was completely stunned and today it still remains my most interesting and favourite find."
Another PAS volunteer and metal-detectorist found a rare medieval lead reliquary or pyx dating to c.AD 1200-1400 in Swinderby. It is decorated with arcading reminiscent of a cathedral cloister and may have carried the Eucharistic host or other sacred material (LIN-360CA5).
"On 7th July 2019, we were detecting over two fields. We had spent all morning on the first field but didn't find a thing so we moved over to the second field which the farmer called the 'cemetery field'. We had a walk around and soon got a cracking signal, really loud and sharp, so we dug down and pulled out this lump of lead. Looking at it, I immediately realised that the item looked a bit special, noticing the arcs around the side, straight away I thought it could be religious. I ran to the other side of the field to show the group what I had found, most of the group said it looked like a toy drum. Today it's one of my best finds, especially now we know it is a medieval religious container."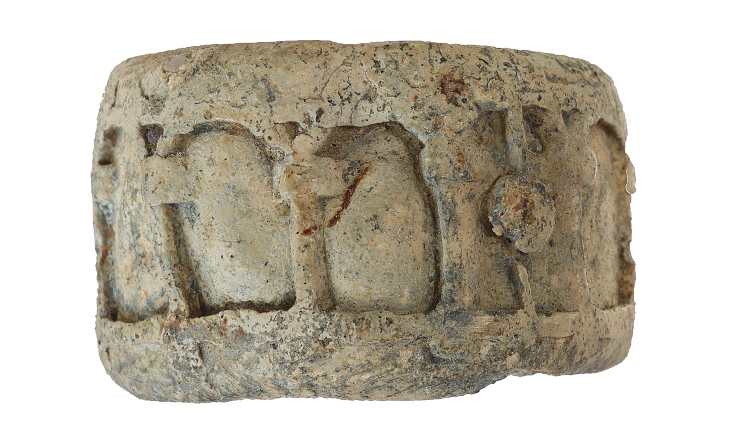 A Classics undergraduate at the University of Lincoln, Elliot Luke, volunteers with the Portable Antiquities Scheme in Lincoln, and has been cataloguing some Roman coins. Elliot put together a piece for the display at The Collection, called A Spotlight on Roman Coinage, where he considered the impact that coins had on the dissemination of religious beliefs and ritual practice.
The museum is delighted that we've been able to display a selection of recent finds from around the county, and thank the finders, landowners, and Lisa Brundle, the Finds Liaison Officer for Lincolnshire, for making this possible.
The recent additions to the museum's collection will stay on display for a couple more months, and will then either join the main displays in the archaeology gallery, or be available for researchers in store.
Lincolnshire County Council acknowledges the support and generosity of individual donors, and those organisations that have given financial assistance towards purchases for the museum collections.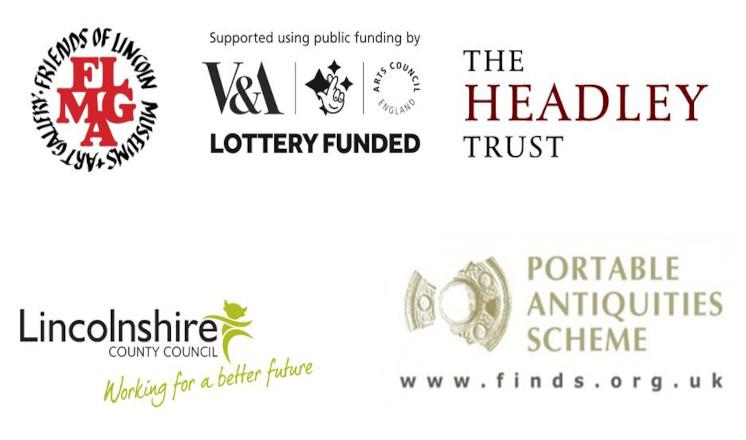 Comments
There aren't any comments for this blog yet